The VEX Robotics Competition, designed for primary & secondary students, serves as a platform for teams to design, build, and program robots using VEX Robotics components. Each year, VEX releases a new game that presents unique objectives and obstacles. Students form alliances and work collaboratively to score points and outperform opposing teams.
With competitions taking place on a square/rectangle field, teams navigate various elements representing the game's objectives, manipulating objects, overcoming obstacles, and striving to achieve maximum points within the time limit. The VRC culminates in regional, national, and international championships, where the most skilled teams from around the world gather to compete and showcase their robotic creations.
The VEX IQ Challenge encourages teamwork as students collaborate in alliances to complete tasks and accumulate points. The competition features a designated field setup that reflects the game's objectives, providing participants with a tangible arena to demonstrate their robots' capabilities. Regional, national, and international championships are held, where teams battle for qualification to the ultimate competitions.
2023/2024 VRC Game - Over Under - Available here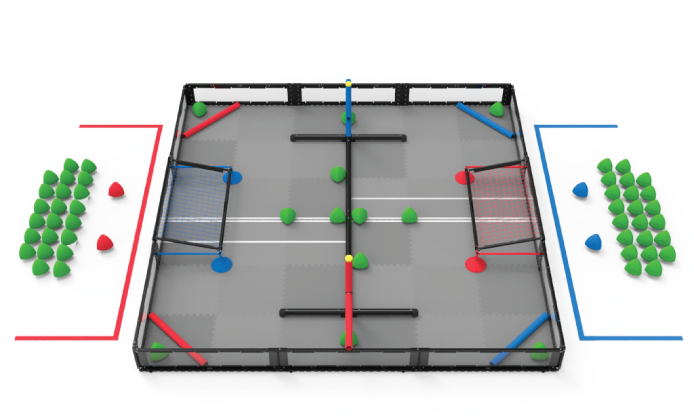 The Game:
VEX Robotics Competition Over Under is played on a 12' x 12' square field configured as seen above. Two (2) Alliances – one (1) "red" and one (1) "blue" – composed of two (2) Teams each, compete in matches consisting of a fifteen (15) second Autonomous Period, followed by a one minute and forty-five second (1:45) Driver Controlled Period.
The object of the game is to attain a higher score than the opposing Alliance by Scoring Triballs in Goals, and by Elevating at the end of the Match.
2023/2024 IQ Game - Full Volume - Available here